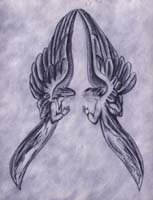 Did you look at yesterday's posting about the angels in Paris that Rosemary Flannery is writing a book about? You can see one of the chapters of her book at www.eyepreferparis.com.
Angels are one of my fascinations too. For the past decade I've been gathering images of them and I'm working on a series. The angel print shown here was inspired by Angels Watching Over the Tomb of Christ, a watercolor by William Blake from 1806. Does it look a bit like it's an etching? It's produced with a photopolymer plate. My drawing was transferred to mylar and then shot onto the photopolymer plate. A source I'd recommend for buying a photopolymer plate is Takach Press on-line store. For a fuller explanation of photopolymer plates go to http://www.photopolymerplates.com/photopoly.htm
How about you, do you believe in angels? If so, who are your favorites?