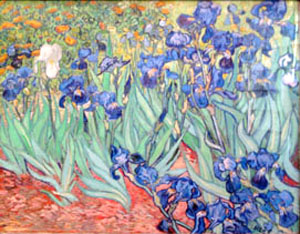 British artist David Hockney's painting of Mulholland Drive gives you a real sense of the steep streets and thereby hilly neighborhood where the J. Paul Getty Museum, sits atop a ridge like the Parthenon in Greece.
The Getty looks out over the Los Angeles network of freeways that weave between neighborhoods and some enviable perches. The Getty is not on Mulholland Drive though, it's at 1200 Getty Center Drive (90049).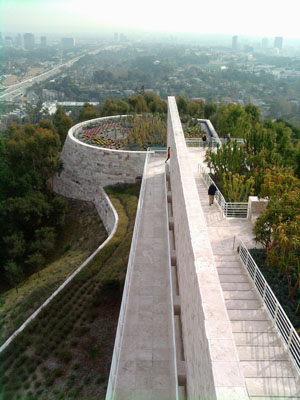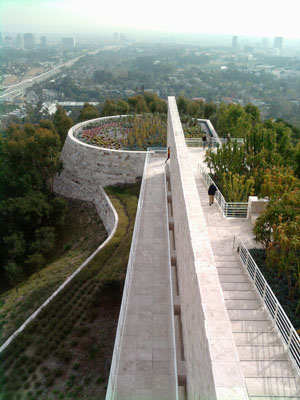 When you arrive at the Getty you can't drive up to the front door of the museum. Instead, there's a parking garage and there's a fee (currently $15) for the parking garage. Admission to the museum is free.
Here's five things that stood out and grabbed me about the Getty:
1) The tram ride. This is like a pause before the punch line or a comma in a sentence.
The first experience not to be missed is this ride up from the parking garage to the museum. It would be hard to avoid this method of arriving anyhow! The tram offers a way to clear your visual palette for a fresh entrée. Arriving at the museum is like arriving in Spartan clean clutter-free Shangri-la.
You're greeted with the sound of waterfalls with stark white stone and stairwells and as you walk around you'll see things like a bronze Magritte sculpture of 3 torsos, a large one inside a smaller one, inside a smaller one.
2) The Collections (Especially Photography)
Before you go you can take a brief tour of the Getty collection. The website offers over 100 videos exploring its collection. Though you may want to find out what's currently on display it's hard to go wrong.
For a voracious fan of photography this is paradise. Within the current photography show, are a few pieces by one of my favorite photographers, Laszlo Moholy-Nagy, which includes one of his photograms. (For an example of a photogram here's one of mine from a previous post).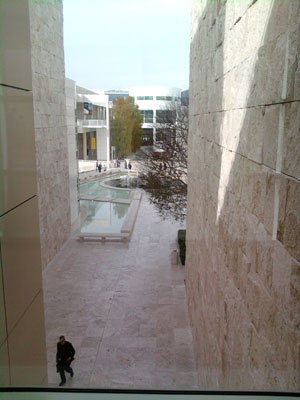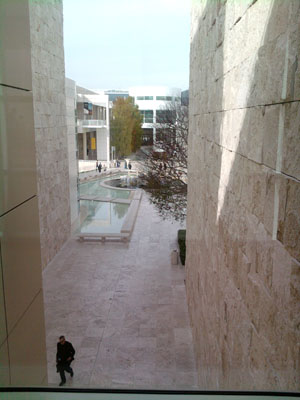 3) The Gardens
Don't miss this 134,000 square foot environment designed by Robert Irwin. The immaculately groomed gardens provide a space to experience being inside art. You can have a pleasant picnic here, and luxuriate in the spaciousness and attention to every tree and bush. Sit by a running stream and listen to it gurgle. Stare out at the vastness of Los Angeles with skyscrapers in the distance. On a clear day you can see the ocean.
4) Space
There's an alive energy of affirming abundance that envelops the Getty. It's apparent in the amount of space allocated for housing art and the way it's displayed. And plenty of room for the visitor to roam. There's several places to choose from for eating lunch and an array of spaces to sit out on terraces and sip coffee or tea.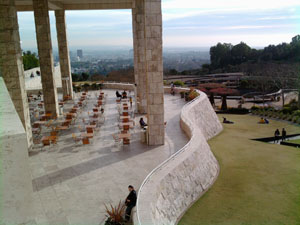 5) Thoughtful Staff
My cell phone battery was low and at coat check I asked where were electrical outlets I could recharge it. The kindly gentleman at coat check offered to charge my phone if I checked it in. I don't know if this is normal procedure though I hope it is.