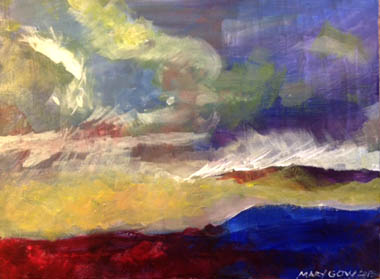 Steven Pressfield writes extensively about overcoming "the Resistance."
T. Harv Eker calls it "the Voice" inside that we need to ignore.
Julia Cameron calls it "the Creative U-Turn."
There's a natural self-protective mechanism inside that urges us to protect ourselves. And there's a natural desire to grow which may require risk. Which ignites the protective mechanism to question the risk.
So it's natural to hear the inner struggle when anything challenges what's comfortable and familiar.
I've had to overcome some U-turns when I though my work had to be either realistic or abstract but not both. I was told I need to have one specific style all the time.
What a relief to find contemporary artists such as Gerhard Richter who paint both abstract and realistic styles and work with photography AND painting.
Today I listened to my "higher self" and I created this gestural expressive painting using only four colors on my palette. It's part of a series I call "Sky Visions."
The inner voice I chose to listen to took some time to truly hear and to honor. It was whispering to me. But in stillness, I heard it loud and clear.