There's no magic bullet, flip the switch and things will be as they were before. We're hearing those words often.
I think about hairdressers and other people who need to be very close to a person in order to do their work. How will they get back to what they do?
Now more than ever, are you discovering how to do a lot of things at home?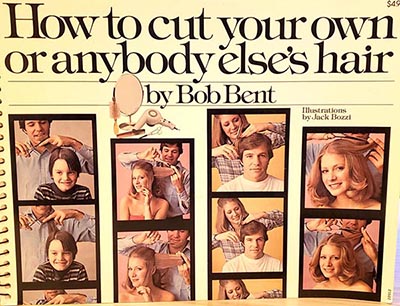 My mother cut my hair when I was growing up; I occasionally got my hair cut by a hairdresser. I was delighted to find the book How to Cut Your Own or Anybody Else's Hair, by Bob Bent.
It was a lot of fun cutting my own hair some of the time in college, and cutting friends' hair too.
Cutting the back area is usually the hardest part that good mirror configurations can help with.
Though the book's out of print, I see there's a Dummies book on haircutting on Amazon.
Of course, you can find a lot of helpful videos on YouTube.
Look after your own hair, and others' hair, when you can, in these days of sheltering at home.
By the way, Harvard University is offering 67 free courses during the quarantine. Check it out by clicking here.
Sending healing thoughts and wishing you well with the skills you're developing in this unusual time.