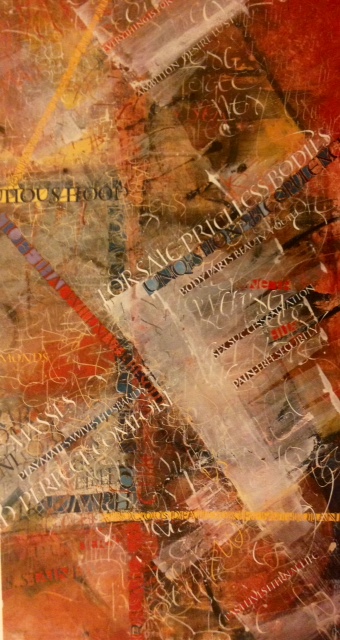 A few months ago I blogged about seeing a rock star in the World of Intuitive Painting, Michele Cassou.
Now, I want you meet a rock star in the World of Calligraphy you may not know about.
He was the first American elected to England's Society of Scribes and Illuminators with a craft membership status. He lives in San Francisco and his work is in public and private collections around the world including the Victoria and Albert Museum in London and the Stiftung Academy of Art in Berlin, Germany.
A friend from the Capital City Scribes (of Austin) referred me to Thomas Ingmire in 1996. I met him briefly, long enough to get his beautiful book, Words of Risk: The Art of Thomas Ingmire, written by Michael Gullick.
In the Kalligraphia 13 show of the work of the Friends of Calligraphy you can see one of Ingmire's pieces on display at the San Francisco Public Library's 6th floor Skylight Gallery (last day is August 26th).
During a walk-through of the art on display, Ingmire flipped through a book he has in the show which was a collaboration with Robert Sheppard. It's called Afghanistan: a Visual/Verbal Book by Thomas Ingmire and Robert Sheppard and it's open to a page (see previous post) that gives you a glimpse of Ingmire's work.
You can see more of his creations on his website or more at Scriptorium St. Francis, and some of his works are for sale.
I still get inspiration looking through the book Words of Risk. Fortunately it is in print.
"Thomas Ingmire writes pictures. He is a visionary artist whose work resonates with warmth and passion….Ingmire has turned words into images, and combined words with images, to make potent visual magic." – Michael Gullick, author of Words of Risk.
You might also enjoy:
–3 Things to Like About Gerhard Richter Painting
–3 Discoveries About Intuitive Painting
–Celebrating Cameraless Art