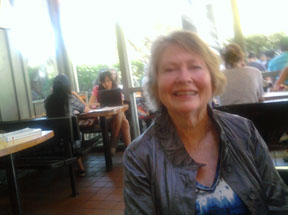 It's often not the most talented artists that become known. It's those with the most audacity. I read that in Julia Cameron's book, The Artist's Way. Before Cameron's book, I remember showing my art to a neighbor in Austin and she said I needed more audacity.
Bay Area filmmaker Mary Kerr and I had a discussion about audcacity and she said it really does come down to confidence. "Your audience will feel it if you feel it," said Kerr.
Kerr produced the documentary San Francisco's Wild History, a movie about the Beat Era in San Francisco. She brought up Joan Brown, an artist with plenty of audacity. Don't miss Kerr's talk talk about her impressions of Joan Brown at the San Jose Museum of Art on November 2nd, noon to 1pm.